A restaurant to stay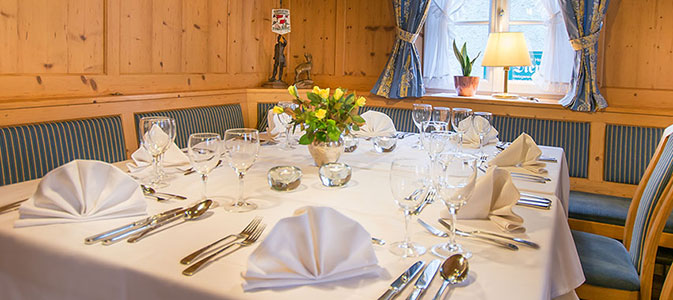 In addition to its rich cultural landscape, the region of Southern Bavaria is known above all for its picturesque natural idyll and the cultivation of wine, fruit and vegetables. Visitors can enjoy all these fresh delicacies, for example in the Restaurant Diem with its four unique rooms. Whether in the traditional Schwemm, the rustic Guten Stube or the cozy Fichtenstube with its inviting wood paneling – here you can enjoy regional cuisine with modern accents of fresh ingredients, as well as a breakfast from the all-pampering buffet.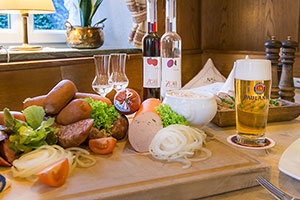 Schwemm
In the good old "Schwemm", where the Swabian soul is at home, you talk in company and exchange news. (seats: 25)
Gute Stube
The "Gute Stube", the center of our house, can also be used for parties and anniversaries. The stylish and variable furnishings create a cozy atmosphere that invites you to linger. ((seats: 80)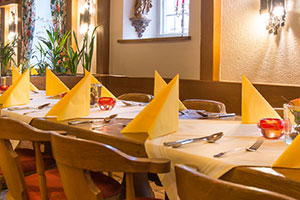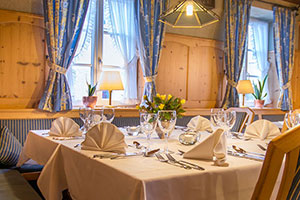 Fichtenstube
In the cozy "Fichtenstube" our cozy interior invites you to linger. But it is also in demand at smaller celebrations and gatherings. (seats: 30)
We look forward to your reservation request in our restaurant and welcome you in our house at the following opening times:
| | | |
| --- | --- | --- |
| breakfast | dinner | lunch |
| 06:30 am – 11:00 am | 11:30 am – 14:00 pm | 17:30 pm – 21:30 pm |
From 14:00 pm to 17:30 pm, our restaurant offers drinks and a small, reduced selection of our menu.
Please note that this request does not constitute a fixed date confirmation. We will contact you as soon as possible to confirm your appointment.
Thank you very much!